Listing Number: FR-760312
Description
In today's competitive marketplace, business owners are eager to find the best ways to stand out, get noticed and build their brands. That's where this brand comes in. For almost two decades,they have been helping their customers get new customers! This company now offers a wide variety of marketing tools ranging from branded products and apparel to print & digital marketing services and provides a customized experience their customer's value and that keeps them coming back.

This is a proven business model, with locations around the globe they are consistently ranked among the industry's top franchises, named year after year to the Power 75 list, the Advertising Specialty Institute's top 40 Distributors list, the Top 50 Distributor list by Promo Marketing, and in Entrepreneur Magazine as a top franchise.

As a franchisee, you'll have the satisfaction of knowing you're helping businesses in your community grow. On the promotional side, you will offer apparel and products that showcase your client's name, image or logo. You will also be able to consult with them, lending your expertise to provide additional products and services they need to get their name out. With a proven track record for success, you'll enjoy a proven B2B model that focuses on small to medium size businesses in an industry that has seen growth, year after year. You'll benefit from our mass purchasing power with vendors and our worldwide network, which has helped this company outpace the already impressive industry growth.
Training
3 Weeks Training - 1 week at Corporate Training Facility, 2 weeks at new location.
Listing Details
Cash Investment:

$60-000-$65,000

Industry:

Printing/Typesetting
All prices shown reflected in USD. Please contact your broker for local investment amounts.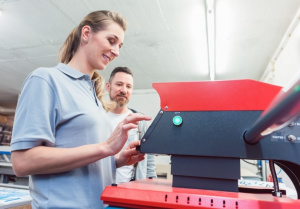 Business Listed By: