Listing Number: FR-856741
Description
This franchise is a great opportunity. A recruiting firm that assists talented professionals in select specialty areas to find great positions. Their corporate clients depend on them to find the best! Founded almost 40 years ago, the success and reputation for providing quality results has continued along with their commitment to keep getting better at what they do for their clients. Only a select number of search firms have the tenure, experience and success in the recruiting business.

Why start your new recruiting business from scratch when you don't have to? This franchise is the "smart" choice in selecting a recruiting franchise. Here's why...

They are the only franchisor in recruiting that shares their long-standing database of client companies, job openings and candidates with all of their franchise locations. All the best training in the recruiting industry simply cannot top this for new franchisees - - period!
Training
2 week initial training training program at their headquarters.
Listing Details
Cash Investment:

$75,000 - $125,000

Industry:

Business Services
All prices shown reflected in USD. Please contact your broker for local investment amounts.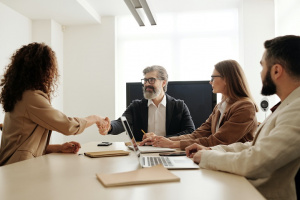 Business Listed By: