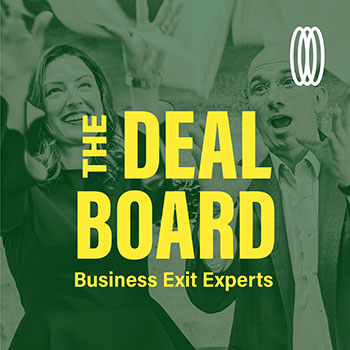 Episode 11
Distressed businesses with Andy Cagnetta and Jessica Fialkovich
"Finding the Right Buyer for a Not-So-Profitable Business"
Description:
Andrew and Jessica are diving deep into the topic of distressed businesses, which are the ones that will not be sold at their value; these businesses are in trouble or have a huge amount of assets that impact on their value. The key when selling a business in distress is finding the right buyers who are taking advantage of an opportunity to acquire assets at a lower price. Listen to real cases of businesses that were barely making or losing money and still were good acquisition deals for buyers. Listing of the week: Rich Heaton (Charleston, South Carolina) presents a listing that checks all the boxes! Signs and graphics industry in business for 27 years. A simplified business model, perfect for a first-time entrepreneur. High profit numbers! Amazing growth opportunity! Price: $965,000. Valued at $1,210,000. Sellers are ready to move on with their lives and are giving a 10% discount!
Key takeaways:
Key takeaways:
[:35] Distressed businesses.
[1:45] Finding the opportunity in assets sales.
[3:15] Reasons for a business that goes wrong.
[5:17] Lori Karmel's business story acquiring a suffering business.
[9:05] Growing a company.
[12:24] Becoming one of Oprah's favorite things.
[13:51] Moving forward to a second company.
[15:37] Buying a cookie company as an asset sale.
[18:25] As a plus getting immigration status.
[21:44] Deal of the week: When your first offer is your best offer!
[23:03] Erin Bean (West Palm) about a tequila company sale.
[25:49] Reaching internationally to find the best buyer.
[26:07] Listing of the week: 10% off the valued price
[30:44] Linnea Westlake (San Diego) a deal from a business that wasn't highly profitable but still represented value.

Show Notes:
Mentioned in this episode:
Tweetables:
Have Questions?
Use the form below to submit your question.