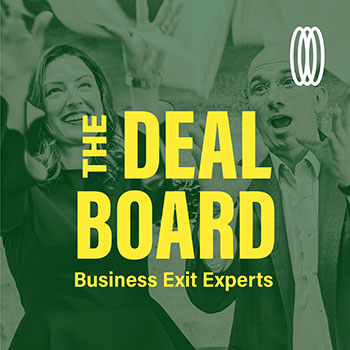 Episode 7
Financing Business Acquisitions Through the SBA with Andy Cagnetta and Jessica Fialkovich
"How and Where"
Description:
Andy and Jessica are bringing the experts in the SBA in the U.S., Live Oak and Stearns Bank, specialists in these kinds of loans. They explain in detail what are the crucial requirements in order to ease the process, and why getting an SBA loan is a great idea in the current market. Listen to this episode and find out not only the benefits of an SBA loan but also what to have and what to avoid in order to facilitate the course of acquiring a business with this incredible financing program. Listing of the week: Patrick Bombardiere (Denver). Custom stone countertop and flooring fabricator and installer. Revenue $8 million per year. STD $630,000. Price: $1.8 million. Great management team! Listing Number 0873-283800. Email patrickb@tworlddenver.com. Ph.(720) 259-5099 ext 126.
Key takeaways:
[:40] What are the SBA programs?

[:51] The 7A and 504 programs, similarities and differences.

[4:10] Low interest in SBA loans.

[5:22] Repayment terms.

[6:45] Buyers love SBA programs.

[8:01] Have great books and records!

[9:35] Stearns Bank: Tom Ethen presenting SBA programs.

[11:48] Goodwill deals

[12:32] Stearns Bank delivers very fast.

[13:43] 7 days approval, 30 days close.

[14:38] Be prepared!

[16:42] Benefits of the SBA

[17:44] Deal of the week: Sale of a furniture store.

[19:40] John Wahl from Live Oak Bank

[21:04] Larger SBA deals.

[22:13] Differences in requirements for a small or bigger loan.

[23:45] Beware of red flags such as travel expenses and excess expenditures.

[25:30] Buyers' qualifications.

[26:52] Changes in the interest rates and its effect n loans.

[28:51] Listing of the week: Custom stone countertop fabricator and installer.

Show Notes:
Mentioned in this episode:
Tweetables:
Have Questions?
Use the form below to submit your question.