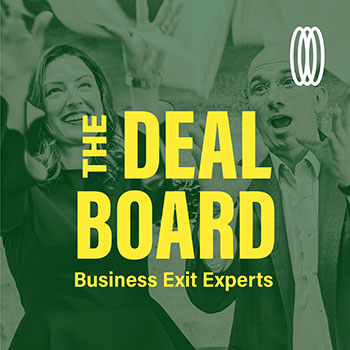 Episode 6
Halloween Special with Andrew Cagnetta and Jessica Fialkovich
"Scary Business!"
Description:
Andrew and Jessica invite you to join them in a spooky episode! Filled with dead and killer deals, scary business and more! This episode introduces unique businesses, from a human body parts company to a custom business run by an Italian family. Listen to this Halloween special and get to know some real deals that were killed by poor decisions and emotional confrontations. Meet amazing brokers who share some of their horrifying moments in this business. Get ready, this show gets creepy! Spooky Halloween Listing: Josh Sagman. Body Human Anatomy in Motion, human body parts, exhibit for science. The travel education medical event that you can take anywhere! Asking for $2,000,000. (A full body costs $100,000; the business comes with 15 bodies and lots of parts.) Unique Opportunity! Check it at Bodieshuman.com. Get in touch: joshuasagman@tworld.com or call 561-707-8986. Scary Listing of the week: Mark Lazarus, New Jersey, Funghoul Italian business, lost the lease, Either selling it as a business or its inventory, period customs and accessories from different times worth $500,000! Half retail and also sells to the general public. Reach Mark ml@tworld.com or call 301-370-9600. The Death Business: Al Fialkovich. Fighting the seasonality on the death business. Cash flow: $250,000. Price: $750,000. 10% down payment: $75K. Smoking deal! Great Business! Call Al 720-370-3699.
Key takeaways:
Key takeaways:
[1:23] Halloween metaphors in the business industry.
[3:35] A deal that kept Andrew awake at night!
[4:27] A trash factory that failed, then built up and went on sale.
[7:01] Missing a great opportunity to sell a business.
[7:56] Spooky Halloween Listing: Josh Sagman, human body parts for science events.
[11:57] Scary Listing of the week
[16:30] Al Fialkovich, presenting the death business.
[18:14] Tom Alana, about a sign manufacturing company, deal killed by an argument, followed by a dramatic business depreciation.

Show Notes:
Mentioned in this episode:
Tweetables:
Have Questions?
Use the form below to submit your question.