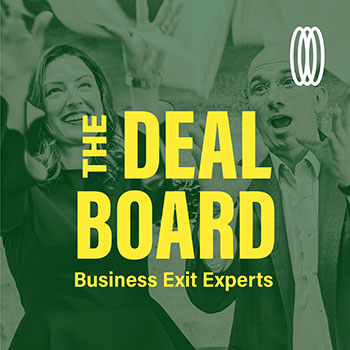 Episode 8
How Books and Records Affect Deals with Andy Cagnetta and Jessica Fialkovich
"Real Cases, Real Challenges, Real Deals"
Description:
Sometimes the only way of expanding a business is franchising. Andy and Jessica explain in this episode the different aspects of this exciting endeavor, as it is the transition from owning a business to being a franchisor. Listen to real cases of successful business extending their boundaries, including the testimony of Andy with the franchise of Transworld Business Advisors. Is your business ready to be franchised? Are you interested in becoming a franchisor? Listen to this show and get ready for a different game! Listing of the week: Erin Bean (West Palm) Service-based company in the flooring business for the last 40 years. Easy to run! Price: $4,000,000. Makes a million dollars every year. Great books and records, ready to apply for financing.
Key takeaways:
[1:18] Benefits of franchising.

[1:49] Franchising works!

[3:02] The franchisor side — share your recipe of success and make others invest in your business.

[3:33] Franchising is highly regulated by the FTC.

[5:29] A real case about Green Leaf Massage and Sports Recovery Center.

[9:04] The process took eight to nine months.

[9:22] Daily there is a lot more support by having franchisees.

[10:17] How to attract new franchisees.

[11:58] If you are about to franchise look for advice, persevere, and focus on delivering value.

[13:12] Deal of the week: A challenging deal. Price: $350,000. The seller was very demanding; there were several complications: sales revenue, losing some customers, financing challenges, landlord issues. But the transaction was finalized at the original price after all.

[17:25] Andy's founding story about franchising Transworld Business Advisors.

[20:41] Franchising is not the same as running a business, the legal aspects are crucially different.

[22:15] United Franchise Group.

[23:03] Expanding and selling franchising.

[24:45] Role as an owner vs. the role of a franchisor.

[26:45] Talk to us if you are thinking of franchising!

[27:22] Get ready for a different game.

[28:20] Listing of the week: Flooring business. Great opportunity!

[30:02] Jason R. Anderson director of franchise development at Transworld Business Advisors.

[30:54] Start with a free franchise feasibility study.

[31:52] Four steps to become a franchisor.

[34:15] Reasonable prices to help entrepreneurs: An entire package in $59,500 investment.

[35:43] Tipton Shonkwiler, United Franchise Group, International Department; expanding your franchise.

[36:34] What about U.S. franchises abroad?

[37:31] Expats' great opportunities.

[38:33] Transworld expanding globally in emerging countries.

Show Notes:
Mentioned in this episode:
Tweetables:
Have Questions?
Use the form below to submit your question.