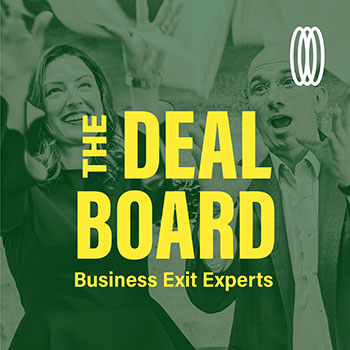 Episode 18
How to Fix & Flip a Business with Andy Cagnetta and Jessica Fialkovich
"Buy - Increase Value - Sell"
Description:
Andrew and Jessica are talking in this episode about "flippers." That is the name given to buyers that acquire multiple businesses knowing they could increase their value in a number of years and then sell them. In the near future, it is expected there will be more business opportunities. Prognosticators say that baby boomers will come to the market en masse to sell their businesses, but the predictions state there are not going to be enough skilled buyers, which would not only bring prices down but also give opportunities to small businesses to go out to buy other businesses. If after listening to this show you want to become a flipper, you will certainly need a business broker by your side, and Transworld Business Advisors can loyally assist you in the process of finding the best acquisition. Listing of the week: Robert Curtiss (Center City Philadelphia), niche retail store with a wonderful reputation and an online business. Asking price: $200,000. Down payment of $90,000, seller financing the rest for 3 years. Discretionary earning is $94,300 a year. Total sale $355,000. Call 267-335-7835 or email artcurtiss@tworld.com
Key takeaways:
[8:40] Chris Warfel's background
[10:38] What was the purpose of buying a new business?
[14:10] Never the same business twice.
[16:22] Tips for people interested in starting to do "fix and flips."
[19:36] Deal of the week: Erin Bean. Furniture store in South Florida. In business for 14 years,selling due to retirement of the owner. SBA finance. Excellent Books and Records. SOLD for $450,000, including $100,000 in inventory.
[21:33] Jason Share, entrepreneur and buyer of several businesses.
[23:45] Being ready to take some risk.
[24:40] Always have an exit strategy.
[25:49] The quantity and quality of the earnings drive multiples.
[26:01] Jason does not focus on the price; the ability to grow is most important to him.
[27:48] Opportunity for millennials.
[29:30] Listing of the week: Robert Curtiss, niche retail store. Price: $200,000. Down Payment $90,000, 3 years owner financing.
[32:59] Tom Jones
[33:42] How are flippers different from other buyers?
[35:38] When buyers are looking for a business with a short term in mind they are not looking for
any particular type or size of business.
[36:41] How long do flippers hold on to the acquired business?
[37:32] Flippers do not get emotionally attached to their businesses.
[39:25] Opportunities in the next two to five years with baby boomers retiring.

Show Notes:
Mentioned in this episode:
Tweetables:
Have Questions?
Use the form below to submit your question.