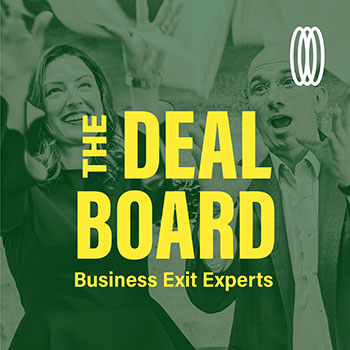 Episode 15
New Years Special with Andy Cagnetta and Jessica Fialkovich
"Goal Setting and Business Seasonality During The Holidays"
Description:
To welcome 2019, Andrew and Jessica welcome to the podcast two influencing and inspiring men: Jim Tatem who is the President of United Franchise Group, explaining the pros of goal setting, and Bob House president of BizBuySell, talking about what kind of business activity goes on during New Year and what can be expected for 2019 related to business sales. This episode is a great way to start the year, the aim is to help you to set your business goals for the next few months for a great and profitable beginning. Happy New Year! Listing of the week: Mike Berry (Indiana) Winery. 10-year business. Boost in revenue in the holiday season but does very well all year round. Price: $2,000,000, $600,000 in inventory. $1,000,000 additional for the property. Expected cash flow: $800,000. Email Mike mike.berry@tworld.com or call 317-564-4777.
Key takeaways:
[5:11] Getting off to a great start with your New Years resolutions.
[5:57] JT talks about setting goals.
[7:41] Differences between a goal setter and a goal getter.
[10:30] Setting life goals.
[11:45] Setting goals for the upcoming year.
[12:14] Eight steps for goal setting.
[17:07] Deal of the week: Marty Fishman (Fort Lauderdale) Bus Tour Business, original price: $850,000, Profit $200,000 a year. Equipment: $200,000. Pre-approved for lender financing. Messy Books and records and neglected equipment ruined the deal. Later, the parties got back in touch, the seller sold the equipment outside the deal and got $58,000.
[20:16] Change of career and looking for a new job as most common New Years resolutions.
[20:33] Bob House.
[20:50] How BizBuySell and BizQuest are helpful in a business for sale?
[21:44] Advice to people that are looking to buy a business for the first time.
[24:17] Transcendent business this last year and projects for 2019.
[26:13] Industries and areas that are more active in business.
[28:36] Seasonality related to goal setting.
[30:21] Labor Day resolution.
[30:47] Advice to sell your business.
[32:03] Get your financials in order and have the right advisors.
[33:41] Listing of the Week: Mike Berry (Indiana) Winery. Price: $2,000,000, $600,000 in inventory. $1,000,000 additional for the property. Expected cash flow: $800,000.

Show Notes:
Mentioned in this episode:
Tweetables:
Have Questions?
Use the form below to submit your question.