Listing Number: 92837-938748
Description
This is a one-of-a-kind concept store specializing in offering high quality, certified pre-owned Apple® products and accessories, making repairs, taking trade-ins, and providing software and system updates. These products and services are in high demand and can all be found in this store. As a leading reseller of certified pre-owned Apple products, they have the knowledge and expertise to integrate Apple® into your home, at school, and into your workplace. There is no other retail store that carries the wide selection of certified pre-owned Apple® laptops and desktops as this store. Unlike buying on-line, you can come into the store and work with their on-staff to solve any customer need no matter how complex. You also have the opportunity to see, feel and touch the product that you want rather than waiting for what might be shipped to you. Since Apple® computers are so reliable and built on a secure platform, many of the Apple® certified pre-owned products have the added bonus of carrying a 1-Year warranty. This is the store to find a premium Apple® device that is in high demand at an affordable price to meet your technology needs.

This store is located in a high traffic shopping plaza in the high growth area of Sandy Springs and anchored by one of the most popular food stores in the country along with several restaurants. It is located within 5 minutes of I-285. The business has been locally owned and operated since 2015 and seen significant growth year after year.

Not only do they handle all things Apple®, but also service Windows® based computers with basic diagnosis, hard drive upgrade, virus and malware cleaning, screen repair and operating system restores and hard drive wipes.

This business does not rely of just one stream of revenue like cell phone repair or computer repair, they capitalize on multiple streams of revenue:

➢ Selling Apple® devices such as laptops, iMacs®, iPads®, iPhones®, Apple Watches and accessories like cases, keyboards, chargers, and much more.
➢ Service repair and upgrades for Apple® and Windows® based computers.
➢ Service repair for iPhones and iPads for screen repair, battery replacements, speaker replacements, etc.
➢ Trade-in revenue of Apple® devices can go through their certification process and be re-sold while upgrading the customer to a newer Apple® device.
➢ B2B. This business has been able to market Apple® devices to other businesses that use Apple® products in their business or as a compliment to their software applications that they sell.

This business is a leader in the technology field and has established itself as the go-to source for all of your computer and mobile technology needs. They have established a great brand identity in the community as you will see in their outstanding Google and Yelp reviews. The owner is looking to pursue some other opportunities outside of the country. If you are a high energy individual that wants to be an owner operator that can take this business to the next level then we would like to talk with you.

Sales Price: $249,900
Payment: $249,900
Total Sales: $788,000
Discretionary Earnings: $215,000
Location: Sandy Springs

Inventory: $12,000.00
FF&E: $77,299.00
Employees: 1 Full Time; 2 Part Time
Year Established: 2015
Category: Retail Technology/Computer

Facilities:
Located in a high traffic plaza ¼ mile from I-285 in Sandy Springs. The plaza is anchored by Whole Foods along with multiple restaurants and other retail businesses generating a lot of foot traffic through out the day. It has an outstanding looking showroom that displays the Apple@ devices and accessories with a high-end look and it has a great tech area for repair work. They also have an enclosed office for an owner/manager along with one bathroom.

Square Ft: 1800
Lease Term: 5 Years
Monthly Lease/Rent: $4120 including CAM


Competition:
The main competition is creating more awareness by marketing the brand through social media, networking, events and other conventional marketing avenues. This business has a high degree of repeat business through word of mouth and their great reviews on social media, but it needs a full time owner/operator to keep building the brand.
There are some cell phone repair shops in the area but none that offer the wide range of services of this business with the selling and repairing of Apple® computers and the repair of Windows® based products.


Growth & Expansion:
Expand social media presence with Google Ad Words, Facebook and others. This business has some B2B business that brings significant repeat revenue on a yearly basis. Develop additional B2B accounts for both selling products, especially companies that are using iPads® with their software related products and on-site service of companies using Apple® products. Join networking groups like BNI and the Chamber. Increase marketing efforts on financing computer sales. With the ease of getting approved for financing, it is a great way to boost your computer sales.


Support & Training:
The owner will give 2 weeks of training. The franchise will provide another 2 weeks of training. One week for marketing and one week for technical training. The current staff will stay with the business making the transition very smooth while maintaining their expertise and knowledge of the business.


Reason for Selling:
The owner just got married and plans to move out of the country.

Franchise:
Yes.

Listing Details
Price:

$249,900

Down Payment:

$249,900

Sellers Discretionary Earnings:

$215,000

Total Sales:

$788,000

Location:

Fulton County, Georgia



Inventory:

$12,000

FF&E:

$77,299

Employees:

1

Year Established:

2015

Reason for Selling:

Moving out of the country.

Category:

Electronics/Computer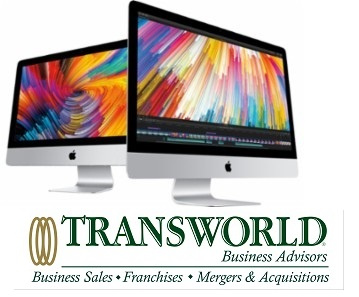 Business Listed By: