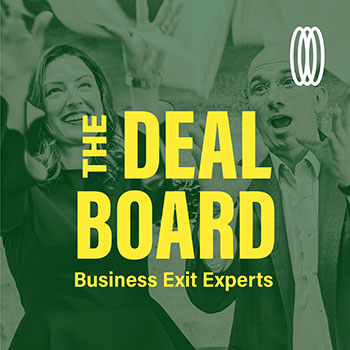 Episode 19
Benefits of Seller Financing with Andy Cagnetta and Jessica Fialkovich
"More Than Money"
Description:
Andrew and Jessica dive deep into seller financing, which is a loan given by the seller who acts like a bank and is a crucial component in buying a business, to the extent that almost every deal relies on it. Banks, on the other side, want to see the seller invested in the buyers' success, believing in their own business and in the deal itself. Seller financing is not about the money, it has to do more with the seller trusting his business, showing interest in following up and be there for assisting the buyer in the initial period of running a new business. On the other hand, as a buyer with a certain amount of cash, having seller financing means they could afford a much better deal since they only need to start with 50%. Other benefits are the flexibility, increased chances of a higher selling price and additional profits coming from interest. Listen to this episode and learn everything you need to know about seller financing, its many benefits, and few risks, coming from the business experts to help you get a better deal. Listing of the week: Robert Curtiss (Center City Philadelphia), niche retail store with a wonderful reputation and an online business. Asking price: $200,000. Down payment of $90,000, seller financing the rest for three years. Discretionary earning is $94,300 a year. Total sale $365,000. Call 267-335-7835 or email artcurtiss@tworld.com
Key takeaways:
[5:16] What is seller financing?
[6:38] Flexibility of seller financing.
[7:30] Businesses are more likely to sell if they have owner financing.
[8:47] Seller financing increases the chances of a higher selling price.
[10:28] Seller financing brings in additional profit.
[16:50] Seller financing is a must to actually sell your business.
[18:55] Deborah Carman (Boca Raton) attorney
[19:59] 20% to 30% of the deals are cash.
[20:22] Buyer feels he is a partner with the seller when there is seller financing.
[21:36] Creativity in the structure of the deals.
[22:34] How is the seller protected?
[25:30] Communication
[28:08] Deal of the week: Erin Crawford. The buyer put only 5% down payment and took SBA lender. Price $500,000, $50,000 consulting agreement for one year, STE $210,000.
[31:17] Listing of the week: Robert Curtiss, niche retail store. Price: $200,000. Down Payment $90,000, three years owner financing.

Show Notes:
Mentioned in this episode:
Tweetables:
Have Questions?
Use the form below to submit your question.