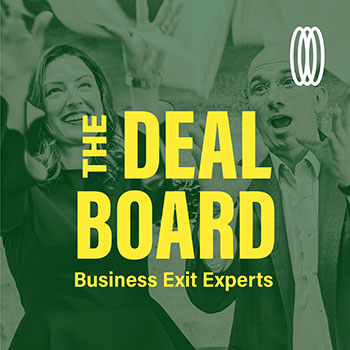 Episode 13
Non-traditional Financing Options for Business with Andy Cagnetta and Jessica Fialkovich
"Advantages and Disadvantages "
Description:
Andrew and Jessica are diving deep into financing along with experts in this arena who will provide very useful information. If you are looking to reinvest in your business using your retirement funds to make a business transaction or if you are struggling in getting the requirements to get a loan, you will find this show perfect for you! Know your options and take advantage of this great time of the economy to make your business grow or acquire a new one. Listen to this episode and find out what goes on behind the deal. Listing of the week: Rob Cohen (Miami) Kite-selling business; fun and family-oriented business. Price: $199,500. Owner Benefit: $93,000. Not financing. Buy now.
Key takeaways:
[3:16] Using retirement funds for financing with Dallas Kerley.
[3:45] Benetrends Financials.
[4:20] How to use retirement funds to purchase a business.
[5:05] Differences between self-directed IRA and Rollover for Business Startups (ROBS) programs.
[6:05] How much can be used from retirement funds?
[7:20] Advantages and disadvantages of Roth program.
[9:18] What is the process to use this kind of financing?
[10:59] Deal of the week: Marty Fishman, bus tour business, first listed at $850,000 making $200,000 a year and having a couple hundred thousand in equipment. Sellers books and records were messy and the business deteriorated, also losing the financing opportunity. Finally selling the equipment apart, the Seller got $58,000.
[13:59] Kenny Proske from Main Street Funding Group.
[14:55] Possibilities when financing with SBA.
[15:45] Knowing which lenders will do what.
[17:06] Misconceptions about seller financing and collateral.
[18:40] Getting deals done when there are not perfect tax returns.
[19:55] Get a recent business and turn it into a startup loan.
[20:48] Working capital refinance loans.
[22:53] Getting tough deals to happen.
[24:52] Listing of the week: Rob Cohen (Miami) Kite-selling business. Price:$199,500. Owner Benefit: $93,000.
[27:03] Paul Ihrig, a specialist in SBA loans.
[28:30] SBA has recently lowered the bar, accepting 90% financing for business acquisitions.
[28:53] SBA loans are now up to $5 million and longer terms.
[29:43] The 7A program.
[30:33] If you are a seller, get your books in order.
[31:32] You should get an SBA in 60 days.
[32:30] Some banks do better than others in acquisition loans.
[33:32] What do buyers need to do to get an SBA loan? Get rid of personal debts!
[34:10] Having transferable business skills.

Show Notes:
Mentioned in this episode:
Tweetables:
Have Questions?
Use the form below to submit your question.