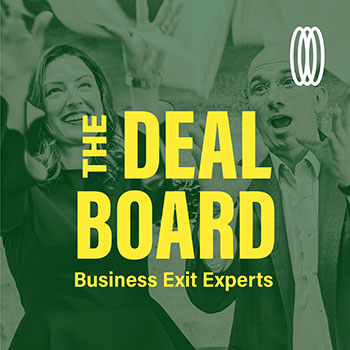 Episode 12
Purchasing a Franchise with Andy Cagnetta and Jessica Fialkovich
"Keys for Success"
Description:
Andy and Jessica talk about franchising and about the opportunities that can be found in this kind of business as well as how to start one and expand it. This episode counts with the participation of amazing guests who have plenty of experience and knowledge in the franchising world, who know what makes franchising successful and what to look for in a successful franchise. Did you know that only 15% of businesses that start from scratch have success compare to 90% success for franchises? Listen to this episode and find out why! Good business for good people! Listing of the week: Nate Ernest Jones (South Florida) Janitorial Equipment Company. Owners are looking to retire. A maintaining business; after moving locations they have had a slight decrease in revenues yearly (10%) No financing available through the bank but owners would finance a third of the sale. Owner will stay for a smooth transition. Purchase Price: $300,000. Net Profit $145,000; includes $100,000 in inventory.
Key takeaways:
[2:03] Introducing the experts in franchising that will join in the show.
[7:28] Damien Bekker from Signarama.
[7:36] Why buying a franchise?
[10:23] Expanding your franchise.
[14:37] Deal of the week: Carey Davis (New York City) Internal Medicine Practice and Urgent Care Sold! $225,000 with 50% down payment. A realistic price for motivated sellers.
[19:44] Ryan Tracy CEO of Barren Troy Holdings.
[20:55] Why Ryan chose franchising.
[22:54] Starting franchising until today with many locations and investments.
[26:10] Moving from retail business to franchise — invest in real estate.
[28:10] Are you unsure of going into franchising? Be diligent, reach out in the business, and ask people about their experiences.
[31:49] Top three keys from Ryan's success in business: people, people, people!
[34:15] Don't go into a business undercapitalized and be ready for new opportunities.
[36:00] Listing of the week: Nate Ernest Jones. Janitorial Equipment Company.
[40:04] Bill Luce president of Transworld Business Advisors.
[41:55] Who is a great franchise buyer?
[42:47] 95% success rate in franchising.
[43:45] How to choose a franchise?
[45:02] Check with United Franchise Group.
[45:44] Follow the program and work hard.

Show Notes:
Mentioned in this episode:
Tweetables:
Have Questions?
Use the form below to submit your question.