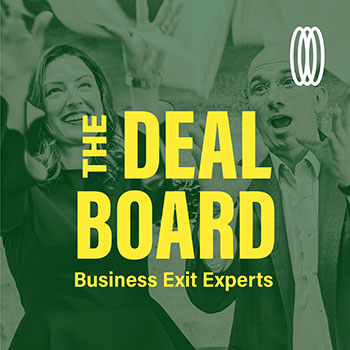 Episode 35
Veterans' Owned Businesses Part 1
"Business Opportunities for Veterans"
Description:
Veterans' owned businesses are a huge contribution to the economy. Veterans are college educated, have great knowledge about how to work in tough situations, and just are perfect entrepreneurs. Veterans' businesses are known to last longer and grow faster, also veterans are 30% more likely to employ other veterans creating great opportunities and successful businesses. Some amazing guests join Andrew and Jessica in this episode, Justin Stuckart, a serial entrepreneur who owns a company that links veterans to government contracting and to other veterans; Joey Jenkins, from Colorado, who leads an organization that holds a veterans' conference every year, that gives people that are looking into entrepreneurship and starting their own businesses the skills to do so; and Lindsey Hayden, who is an ex-Army linguist and owns a business as a franchisee and shares her experience on this process while giving great advice for veterans who want to own a business. Listings of the week: Erik Woodworth (Chevy Chase). Perfect business for veterans in Maryland, offering assistance to veterans who have mobility challenges and want to remain in their homes by making them accessible. $450,000 in sales. Call Erik 202-459-4554.
Key takeaways:
[5:21] Joey Jenkins, Colorado SBDC.
[5:27] What is the entrepreneurial community like for veterans?
[6:08] Colorado SBDC supporting the veterans.
[7:57] Advice to future business owners from the veteran community.
[8:28] Deal of the week: Al Fialkovich, Denver. Dental Laboratory owned by a Veteran, Revenue: Over a million dollars. STE: $350,000. Final Purchase: $1,200,000.
[10:14] Lindsey Hayden, franchise business owner.
[12:34] Best resources for veterans.
[14:45] Listing of the week: Erik Woodworth (Chevy Chase). Perfect business for veterans, home accessibility services for veterans with mobility challenges.
[17:42] Justin Stuckart, chair of the advisory council for Mission United.
[20:44] Mission United purpose.
[23:22] Veterans getting into business.
[26:15] What employers look for in employees.
[26:40] Opportunities for veterans.
[28:11] Joint ventures and buying an existing business.
[28:35] First step for veterans, contact Mission United.

Show Notes:
Mentioned in this episode:
Tweetables:
Have Questions?
Use the form below to submit your question.