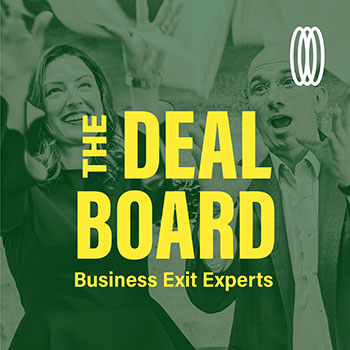 Episode 23
Everything is Bigger in Texas with Andrew Cagnetta and Jessica Fialkovich
"Benefits of Acquiring and Operating a Business in Texas"
Description:
Texas has always been great for business, but in the last ten years large companies and small business have continued to grow with a net migration of 1.4 million people moving to this amazing state. If Texas would be a stand-alone country it would be the tenth-largest economy in the world. Texas has favorable tax laws and it's very business friendly. Andrew and Jessica explain why you don't necessarily have to start a business in the town you live in; you can move, find the best place to start and Texas offers many cities that can give you the entrepreneurial boost you were looking for. Small business, professional services, and big enterprises can benefit from the large population currently established in Texas. Listings of the week: Cathy Dammeyer (North DFW Dallas). Floral Shop with big corporate accounts. Price: $499,000. STE $155,000. cdammeyer@tworld.com
Key takeaways:
[5:03] Gerry Brisson (Houston)
[5:25] Houston as a major market for small business.
[6:15] Is Houston a sellers' or a buyers' market?
[7:06] Opportunities in the Houston area.
[8:26] Best listings in Houston.
[9:50] Deal of the week: Angela Lee (Austin). A family starts a business and seven years later sells it. Business in a rural area 80% commercial. Price $1.3 million. STE $350,000.
[12:05] Cathy Dammeyer and Vicki Wallace (North DFW Dallas)
[12:42] Why you should move to Dallas and buy a small business.
[14:12] Dallas offers low taxes and no income taxes.
[14:56] Dallas gives the opportunity of owning your business with great benefits.
[16:01] Baby boomers are not old and keep continuing to buy businesses.
[17:59] Listing of the week: Cathy Dammeyer. Floral Shop with big corporate accounts. Price: $499,000. STE $155,000
[20:10] Matthew Grupp and Angela Lee (Central Texas)
[21:00] Growth in different areas of Austin.
[21:47] All kinds of business and industries in Austin.
[22:30] Baby Boomers and Millennials investing and selling.
[23:25] Opportunities for financing business.

Show Notes:
Mentioned in this episode:
Tweetables:
Have Questions?
Use the form below to submit your question.