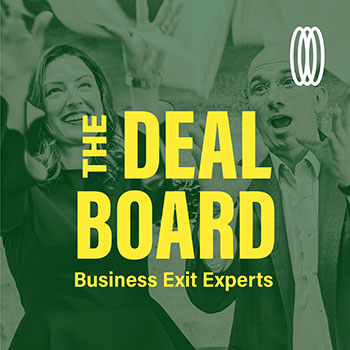 Episode 21
How World Events Affect Small Business Owners with Andrew Cagnetta and Jessica Fialkovich
"Potential Risks and Effects and How to Build Resiliency "
Description:
Andrew and Jessica inspired on the latest US government shut down for 34 days decided to dive into the topic of how this large economics events affect business owners. Nowadays the world is all interconnected, through banking, currency exchanges and trade; the internet had brought all the nations together and as a result when one suffers there is a chain reaction in the others. Any major economic event influences how businesses are being sold and even how long deals can take to close. Listen to this episode to learn more about business resilience. Changes always bring new and different opportunities for business, get the best advice from the experts! Listings of the week: Mike Veltri (Tulsa). Two Wood Manufacturing Companies. #1 Price $3,2 million and making $750,000 a year, Offices and distribution nationwide. #2 Price: $1.2million STE $250,000-$300,000. Both businesses combined could be beneficial for the second one and also both use the same material, staff has the same skills and they work with the same market. Total purchase for both: $4.5 million . Lots of synergy savings! Call 918-4010118 or email pmveltry@tworld.com
Key takeaways:
[1:20] Andrew and Jessica's introduction
[5:38] Jeffrey Taylor from USGRI
[6:25] How do small business get a voice?
[7:18] Business associations
[8:26] Proving a legislation is necessary to pass at congress
[9:45] The power of letters.
[11:38] Treak: You don't have to go to congress since each member has a local office.
[16:06] Deal of the week: Michael Veltri (Tulsa). Technology Business with many contracts over the internet, good cash flow. Price: $3.000.000. There was a change in the original company from operation to just a collection agency, and the collections were transferred to the new company.
[19:12] Michael Ziff, UK
[19:40] Uncertainty on small businesses.
[22:30] The opportunities that uncertainty give to small business owners.
[24:54] Listing of the week: Mike Veltri (Tulsa) Two Wood Manufacturing Companies. Lots of synergies. Price for both: $4.5million
[27:45] John Wahl from Live Oak Bank
[28:15] What is the SBA?
[29:07] How the SBA interacts with banks?
[30:30] The SBA is a non-subsidized program from the US government.
[31:18] How does the government shutdown affect the SBA process?
[32:37] Differences between PLP and GP.

Show Notes:
Mentioned in this episode:
Tweetables:
Have Questions?
Use the form below to submit your question.