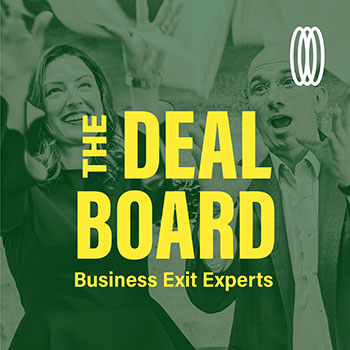 Episode 22
Immigrating to the U.S.A. with Andrew Cagnetta and Jessica Fialkovich
"Selling Business to Foreign Investors"
Description:
Andrew and Jessica are diving into the topic of immigrant investors in the U.S. They bring the experts to enter into the specific traits of each visa designed for this purpose, the EB-5 Immigrant Investor Program, the L1 Visa and the most popular E2 visa. This is a great episode for sellers to educate themselves about this potential buyer market for their business. Patience is needed in these cases, but there are myths related to immigrant investors that also will be uncovered by the best business advisors and experts in the immigration process. As a seller, this is also an opportunity to see your business transition into someone's dream and have a legacy live on. Listings of the week: Josh Sagman, Club in West Palm Beach, 12,000 square feet, 4 bars. Fully operational, staff in place with great numbers! Price: $645,000 Owner Benefits $300,000 per year. Call 561-787-8986 or email joshuasagman@tworld.com
Key takeaways:
[6:45] Jessica Weiss, Weiss and Moy, P.C.
[7:24] Current trends in the immigration world.
[9:13] More than just approved visas.
[10:01] L1A and EB-5 Visas.
[10:35] Longer processes.
[11:30] Delay in EB-5 visas, especially from China.
[12:48] Green card solicitation while requiring an investor visa.
[14:22] Initial advice for foreign investors: first come temporary, EB-1 and EB-3.
[17:30] Visit Attorneyjessicaweiss.com for charts.
[17:55] Deal of the week: Randy Bring (Boca Raton) Small Sandwich Shop at a business office park. Buyer immigrating from Europe with experience in the field. Price: $75,000. Earnings of $35,000 per year.
[19:45] Michael Shea, getting an E2 visa.
[21:55] Employment is not a must.
[22:40] First get educated, then be super practical.
[23:07] Get a broker, a CPA, an accountant, and an attorney.
[24:18] Find what is the cost of living in the US compared to where they at.
[26:12] Starting the process from another country.
[28:09] Importance of the background check.
[29:13] If coming from a country where English is not the first language, watch for predators.
[31:26] Listing of the week: Josh Sagman is selling a Club in West Palm Beach. Price: $645,000. Owner Benefits $300,000 per year.
[33:47] Lisa Krueger Khan, an immigration attorney, Florida.
[34:18] Getting an E2 visa is not difficult even in a challenging immigration climate.
[36:23] E2 visa process is possible if coming from a treaty country.
[38:08] What kind of business qualifies?
[40:05] Is there a certain amount needed for investment? 75% of the value is substantial.
[41:40] Get professional help to get your visa.
[42:44] Aiming for citizenship.
[44:06] E2 spouse can get a work card.
[44:55] EB-5 criteria.
[45:29] How to start overseas?
[45:53] Find the right business.

Show Notes:
Mentioned in this episode:
Tweetables:
Have Questions?
Use the form below to submit your question.