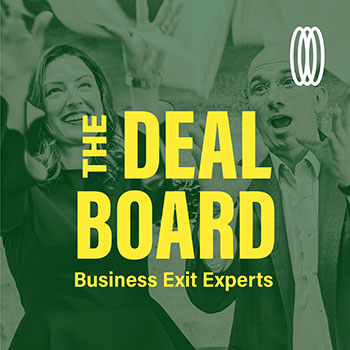 Episode 24
International Markets
"Expanding Your Business"
Description:
In this episode, Andrew and Jessica went around the world and interviewed some of Transworld Business Advisors' master franchisees from Australia, the UK, South Africa, and France and found some great opportunities for international buyers to educate themselves and find out what is going on on the world stage. Change brings a lot of opportunities for investment, acquisition, and even relocating to a different country to take advantage of economic growth. These times bring great opportunities for small business to expand. In a global economy, businesses need to start thinking more internationally; regardless where your business is located, you can provide services all over the globe, get a real chance to diversify your investments, and get your distribution closer to your customers. Listings of the week: Steven Hanson (San Diego North) Upscale Fitness Center, in business for about 18 years. 100 classes a week, power training, great customers service, almost 3000 members paying $100 monthly. Great presentation, amazing atmosphere, best service. Recurred revenue. STE: $450,000. Email Steven shanson@tworld.com
Key takeaways:
[6:07] Henry Ziff, Master franchisee on the British Isles.

[6:37] Strong market in the UK.

[7:14] Advice for sellers in the UK.

[8:03] What do local and international buyers need to do in order to purchase a business in the UK?

[9:35] Financing options for businesses in the UK.

[10:41] The most interesting listing for sale in the UK for international buyers.

[11:45] Deal of the week: Ken Gorman (London) Electronic Wholesaler. Profit: $700,000 a year. Sold at $2,600,000.

[14:23] Jacques Stoltz, Master franchisee on South Africa.

[14:42] Overview of the current South African economy.

[16:37] Currency exchange in South Africa benefits foreign investors.

[17:28] Factors that influence the sale of small businesses in South Africa.

[19:00] Particularities of buying and selling small businesses in South Africa.

[21:11] Business opportunity in South Africa for international investors.

[23:20] Listing of the week: Steven Hanson (San Diego North) Upscale Fitness Center. STE: $450,000.

[28:54] Jeremy O'Gorman, Transworld Australia.

[29:32] Business scenario in Australia.

[31:18] Opportunities for small businesses in Australia.

[32:31] Boom in real estate in Australia.

[33:15] Demographics of people in business in Australia.

[34:26] Franchising in Australia.

[35:40] Relocated to Australia following new immigration laws.

Show Notes:
Mentioned in this episode:
Tweetables:
Have Questions?
Use the form below to submit your question.