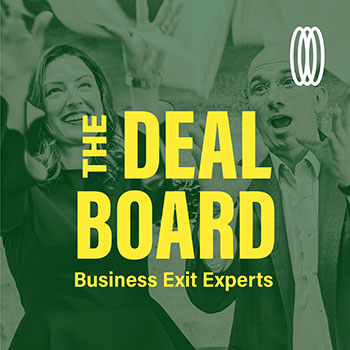 Episode 25
Mergers and Acquisitions
"What is an M&A deal?"
Description:
Andrew and Jessica are welcoming expert guests today to talk about M&A deals and their particular features. If your business has reached a million dollars in earnings, you have the chance to be noticed by larger companies. The buyers in the M&A market are very well represented, and building the right team to represent your business in a transaction is very important. Transworld Business Advisors has an M&A department in Tampa, to give the specific service these kinds of deals need. Transworld has over 500 intermediaries across the world and with the leading team specialized on M&A, partnerships can be made with anybody across the world so you have people on your side to get a deal done. Listen to this episode to know if your business is qualified for an M&A deal and to learn why hiring a broker is a must. Listings of the week: Al Fialkovich (Denver). Custom Stone Fabrication and Insulation Company Price: $978,000. SBA pre-qualified. New equipment. Owners run the business operation and work part-time. Email albert@tworld.com or call 720-357-6853.
Key takeaways:
[6:09] Sage Harrison, principal at Trinity Private Equity Group.
[7:31] What is an M&A deal regarding operating companies?
[10:14] Qualification and risk management.
[11:38] What is the market currently in the private equity space?
[13:18] Fiduciary involvement in the deals.
[14:50] Deal of the week: Dustin Audet (Denver) Coffee Shop losing money every year. Cash buyers. Listed price $150,000, sold at $102,000. STE $5,000 per year.
[17:01] Mike Ertel from Transworld Mergers and Acquisitions in Tampa Florida.
[17:50] When you need a broker instead of a regular intermediate.
[19:33] Building a confidential memorandum.
[21:42] If you are engaged in raising capital, you have to be security licensed.
[23:37] Advice to someone that want to raise 1 or 2 million dollars.
[25:13] The market for well managed and profitable business has never been stronger.
[27:11] Listing of the week: Al Fialkovich (Denver). Custom Stone Fabrication and Insulation Company Price: $978,000. SBA pre-qualified
[28:17] Peter Berg from M&A Department at Transworld.
[29:44] When there is a financial or a strategic buyer the business will probably qualify for an M&A.
[30:38] Why does a seller need representation?
[34:37] If you have a buyer, you have nothing, they have you.
[37:17] Importance of the letter of intent.
[38:25] Important aspects to be negotiated in an M&A.

Show Notes:
Mentioned in this episode:
Tweetables:
Have Questions?
Use the form below to submit your question.