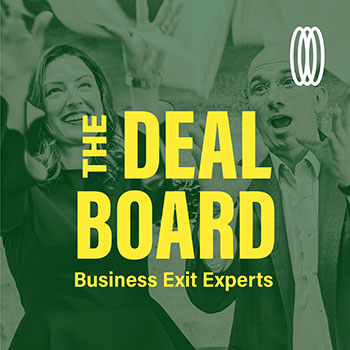 Episode 29
Selling a Business While Getting Divorced
"Valuation, Challenges, and Priorities"
Description:
Divorce is a heavy topic that has an impact on business sales. This episode addresses the challenges and important aspects that couples in the process of getting divorced need to have under consideration at the time of selling a business, whether both used to work in the business or only one party. The expert guests explain what is like to get a divorce when you own a business. They talk about the potential issues related to business ownership that might come up in a divorce and some options that business owners have when their business is for sale. Andy and Jessica highlight the importance of communicating openly with business brokers when the owner is in the middle of a divorce, even if the business is own by one party since in many states businesses are considered common property. Listen to this episode and get the best advice from the experts to reach the best possible deal, even in tough times.
Key takeaways:
[4:29] Laura Wasser, family lawyer.

[6:07] Divorcing in different states.

[6:50] Selling a business when a couple is going through a divorce.

[7:28] Biggest mistakes couples make when trying to sell a business.

[9:18] First steps to take about business assets.

[12:03] Deal of the week: Al Fialkovich (Denver) Couple getting divorced that was in the business together for 10 years; new wife also in the business. Industrial manufacture. Communication issues created challenges. Company sold to a third party, 50-50 split. Prize 3.2 million SBA

[15:04] Barry Finkel P.A. attorney

[16:56] Advice when just getting a divorce.

[17:50] Value the interest of the owner spouse in a divorce case.

[18:20] In Florida, personal goodwill is not a marital asset.

[19:43] 90% of the times, business are valued as a net value approach.

[20:35] Importance of hiring a business valuator expert in the divorce field.

[21:22] Three different business valuations in the case of divorce.

[22:35] Best-case scenario

[24:40] The "double dipping" situation in divorces in Florida.

[27:24] Listing of the week: Simon Polzer (Palm Beach) Established Vitamin Shop. Price: $359,000 (Includes $61,000 of inventory). In the process of getting SBA financing.
Show Notes:
Mentioned in this episode:
Tweetables:
Simon Polzer (Palm Beach) Established Vitamin Shop, 25 years in business. Price: $359,000 (Includes $61,000 of inventory). Upgraded shop. Owners work 35 hours a week. Very clean books and records, in the process of getting SBA financing. Contact Simon at 561-508-1160 or email spolzer@tworld.com.
Have Questions?
Use the form below to submit your question.