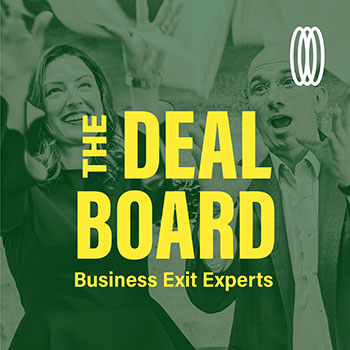 Episode 28
The Restaurant Industry
"Growth Opportunity"
Description:
The restaurant industry represents a major part of the sales Transworld Business Advisors make every year. Andrew and Jessica are welcoming expert guests to this show, who give away some of their secrets for buying a new restaurant. Decades of experience in the gastronomy business have given today's guests the ability to find trends in the business and to find the right opportunities. It is proven that buying a restaurant instead of building your own can really make the buyer save lots of money and capital costs. Restaurants are great businesses and the truth is that the people who are doing it right are very successful. The restaurant business offers a great opportunity to grow!
Key takeaways:
[5:48] Chris Tripoli founder of A la Carte Food Service Consulting Group

[6:26] Available resources for people owning or operating a restaurant.

[7:39] Opportunities for the individual restaurant operator.

[8:30] Advice to startup correctly.

[9:56] Second generation, the restaurant turnaround.

[10:55] Plan your idea first.

[12:44] White tablecloth restaurants.

[14:14] Fresh, seasonal, local food.

[15:47] Check the local and national restaurant association.

[17:10] Deal of the week: John DeVries. Seller started the first restaurant 18 years ago, then opened 5 more restaurants with great locations. Revenue over $25 million. Private equity group bought, leaving the seller a 20% equity. Opened four new locations and growing. Sold for $12 million.

[21:15] Leone Padula, serial entrepreneur, owner of Gran Forno.

[22:20] Operating a restaurant.

[23:30] Special customer experience.

[24:55] Look for location and the potential of a restaurant.

[26:13] Create relationships.

[26:45] The opportunity for small investors in the restaurant business.

[27:42] Start from the bottom and know every aspect of the industry.

[29:32] Listing of the week: Jess Bouya (Bel Air, Maryland) Restaurant, Bar and Lounge. $1.5 million with property.

[33:17] Chris Cantwell, Denver

[33.44] Two different scenarios for restaurant buyers.

[35:24] Current trends in the marketplace for restaurants.
Show Notes:
Mentioned in this episode:
Tweetables:
Jess Bouya (Bel Air, Maryland) Restaurant, Bar and Lounge. $1.5 million with property. Building built in the 1700s. Three dining areas. Wine cellar in the basement. Outside beer garden. Huge parking lot. Right on the main road. Transworld Business Advisors in Bel Air or call 410-803-3746.
Have Questions?
Use the form below to submit your question.