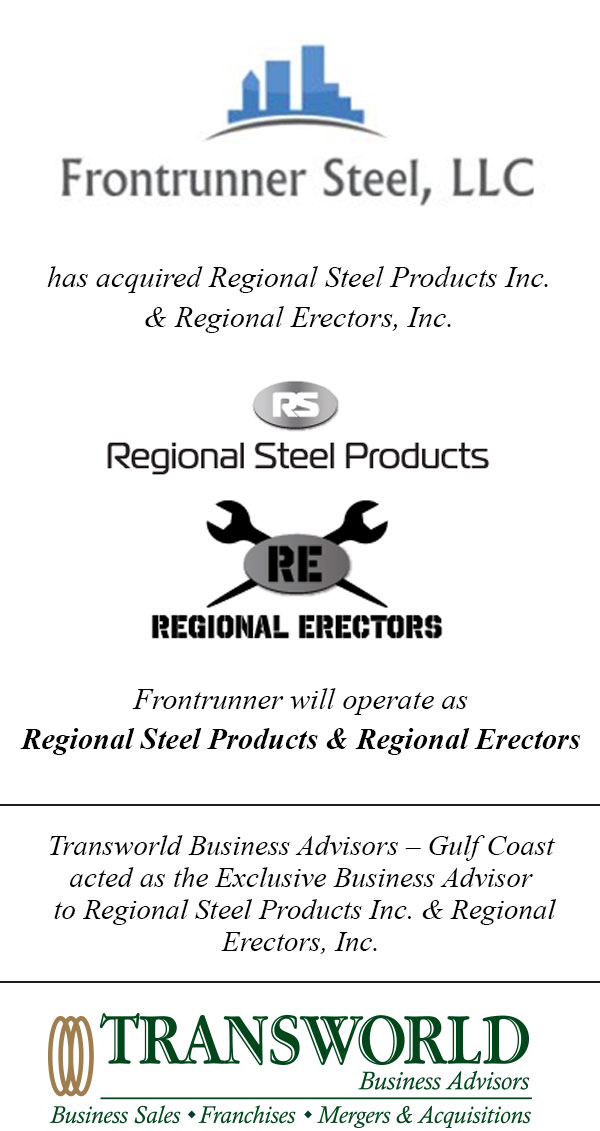 For additional information about Transworld or for confidential M&A guidance on your unique situation, please contact:
Bill Kleinschrodt, CPA, CVA, CFC
President
(251) 237-1030
bkleinschrodt@tworld.com
Bill Whiston, CMAP
Certified M&A Professional
(251) 533-7344
bwhiston@tworld.com
Transaction Highlights
Transworld Business Advisors acted as exclusive advisor to Regional Steel Products, Inc. and Regional Erectors, Inc. (collectively "Regional"), a structural steel fabricator and structural steel erector, respectively, for commercial building projects, in its sale to Frontrunner Steel, LLC ("Frontrunner") of Mobile, AL.
Frontrunner consummated the transaction with Regional to capitalize on market opportunities including leveraging the Company's existing contacts and bid opportunities as well as expanding into marine and industrial steel product fabrication, installation, and erection. Regional will continue to operate as Regional Steel Products, Inc. and Regional Erectors, Inc. The corporate headquarters of Regional will remain in Semmes, AL.
About the Companies
Frontrunner Steel, LLC
Frontrunner (through its existing ownership, sister companies and its subsidiaries) has serviced the needs of both land based and offshore construction in the marine, energy, and oil and gas industries since 2012. The Company has developed its service and product line offerings from marine construction supervision, steel fabrication, oil rig repair, blasting and coatings to professional skilled labor staffing services.
Regional Steel Products, Inc. and Regional Erectors, Inc.
Regional operates as a Gulf Coast structural steel fabricator and erector of steel beams, joists, girders, hand rails as well as custom retro-fitting existing buildings, including prominent high-rises throughout the region. Regional serves commercial contractors in the Southeast for various projects involving structural steel needs. Past projects include fast-food franchises, supermarkets, banks, commercial retail outlets, schools, pharmacies, hospitals, medical clinics, and churches.
Transworld Business Advisors – Gulf Coast ("Transworld")
Transworld's M&A department primarily serves business owners in the $5-$50mm range throughout the Southeast and Gulf Coast corridor. According to IBIS Research, Transworld is the largest business brokerage firm in the world. Transworld offices are independently owned, yet function as an integrated network of highly experienced brokers and M&A advisors with more than 200 locations around the country and in nearly 20 countries. Transworld routinely provides confidential marketing and positioning, buyer-screening, and implements a structured process that maximizes seller's value and probability of success when exiting a business. Transworld works closely with business owners to price their company competitively and position the company as a "must have" investment opportunity to qualified buyers. With a proprietary CRM and database with 40+ years of historical, relevant buyers and transactions, Transworld's processes allow for owners to remain focused on their businesses, while Transworld's team manages the selling process.